For immediate release:
Mike Blount
Communications Director
(916) 812-6984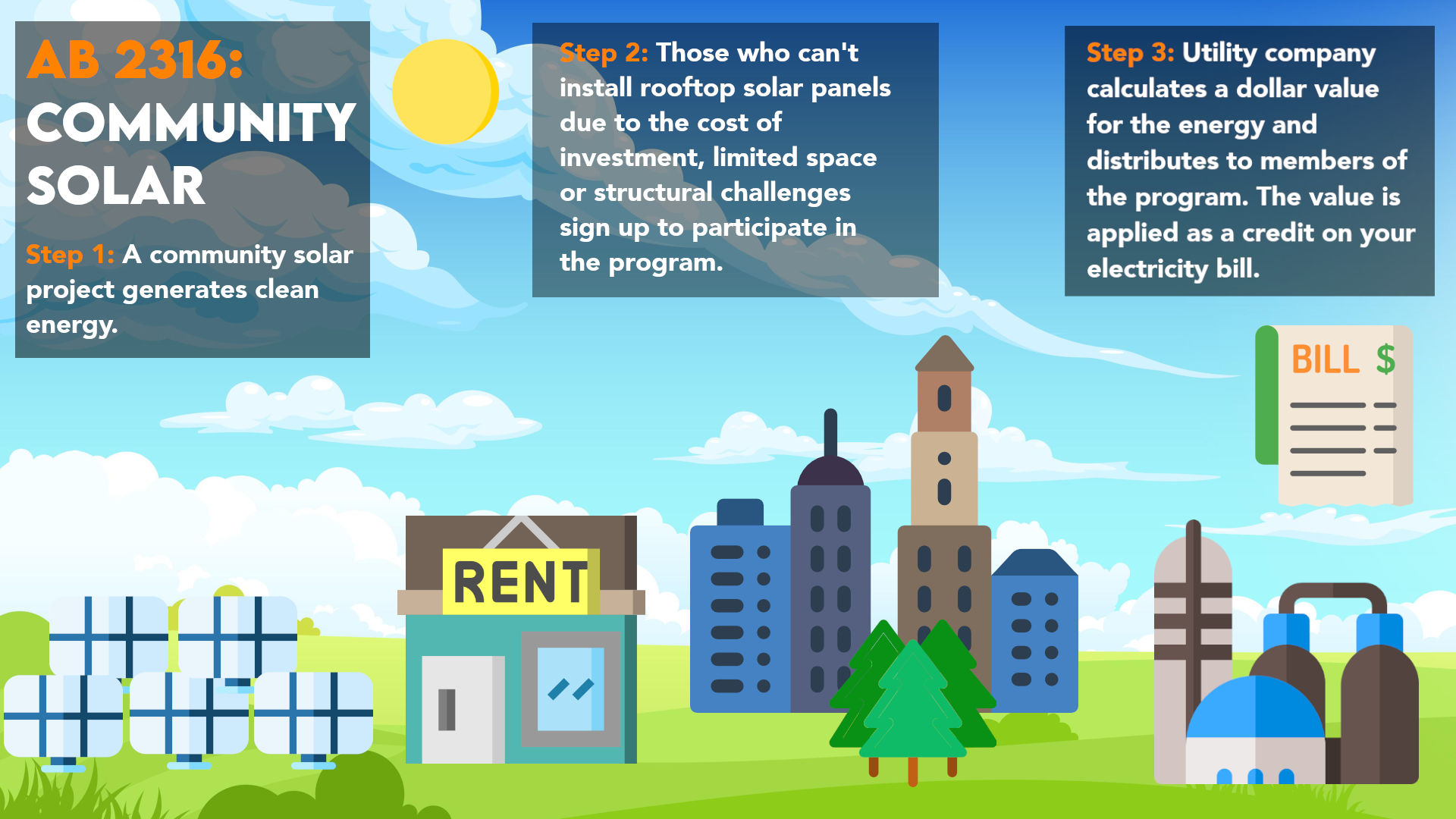 (SACRAMENTO,CA) – California is home to roughly 40 million people with nearly half of the population being renters. While the Golden State has made significant strides to move toward green energy solutions to fight climate change, these goals cannot be met leaving renters and those who cannot install rooftop solar behind. That's why Assemblymember Chris Ward introduced AB 2316 to establish a community solar and storage program, paving the way for smaller-scale solar installations to be built throughout the state. Renters and other customers would then be able to subscribe and receive credit on their monthly energy bills for their amount of power produced, just as if the panels were on their own roof. The bill is now headed to Governor Newsom's desk. 
"AB 2316 is poised to be the most significant expansion of solar access to low- and middle-income communities in California history," said Assemblymember Ward (D-San Diego). "Not only is it about equity, it's also about building out a community solar program that would improve the overall reliability of our electrical grid by ensuring that solar energy is sent during peak hours of usage."
Californians who live in areas covered by privately-owned utilities like San Diego Gas & Electric, Southern California Edison, or Pacific Gas & Electric would be eligible for the program. Ratepayers can choose to subscribe or decline to enroll, with financial incentives being available for low-income customers. Subscribers would be compensated based on the value of the renewable energy resource.
"California lawmakers want their state to remain on the cutting edge of clean energy by deploying it to build social equity during a changing climate," said Derek Chernow, Western Regional Director at the Coalition for Community Solar Access. "If signed by Governor Newsom, AB 2316 creates the nation's most equitable community solar plus storage program. As billions of federal dollars are invested in this proven technology to cut electrical bills for working families and prevent blackouts, the only choice for California is to lead. We urge Governor Newsom to sign this bill and unleash a vibrant new sector of the green economy geared to remove barriers to affordable clean power while putting Californians to work."