Hello, Assembly District 78! I'm your representative Chris Ward and I want to bring you up to date on the latest for the month of May.
My legislation continues to work through the process with more than a dozen bills headed to the Assembly floor later this month. I'll have a full update for you next month, but I wanted to cover a few other bills to address homelessness, and the status of the state budget which needs your input this month. But first, I wanted to share a little about the history of our State Capitol and how you can arrange a tour to visit it when you're in Sacramento.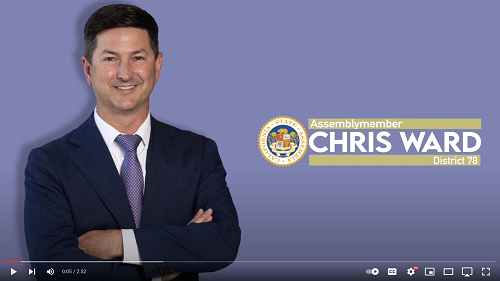 CALIFORNIA STATE CAPITOL TOURS
The California State Capitol is the seat of the California state government, and it houses the Legislature including the Assembly and Senate. This is the seventh location since our State was founded in 1850, but it stuck and was built over a span of 14 years and completed in 1874. It's located in the heart of downtown Sacramento, now established as the state capital of California.
The neoclassical style design is based on the U.S. Capitol building in Washington D.C. and was conceived by architect Reuben S. Clark, who worked for one of San Francisco's oldest architect firms originally founded in 1854. Between 1949 and 1952, the Capitol's East Annex was constructed, which offered office space to legislators, the Governor, and the Lt Governor.
Between 1977 and 1981, the historic Capitol — more than 100 years old — was refurbished to bring back original features and luster, and in fact many of the historic hearing rooms are still used today as places I can meet with committees or constituent groups to further our work. A few years ago, a decision was made to reconstruct the Capitol Annex office spaces to serve the public for the next 80 years — and if you have a chance to visit in the next few years you'll see and hear the active construction. In the meantime, we are temporarily working in office spaces a block away in a place known as the "Swing Space."
Outside the Capitol is Capitol Park, which covers 10 city blocks and encompasses monuments, memorials, open space and the beautiful rose garden on the east end. On the west end, you'll find the Capitol Mall, as well as the West Steps where people gather to protest and hold rallies in support of legislation.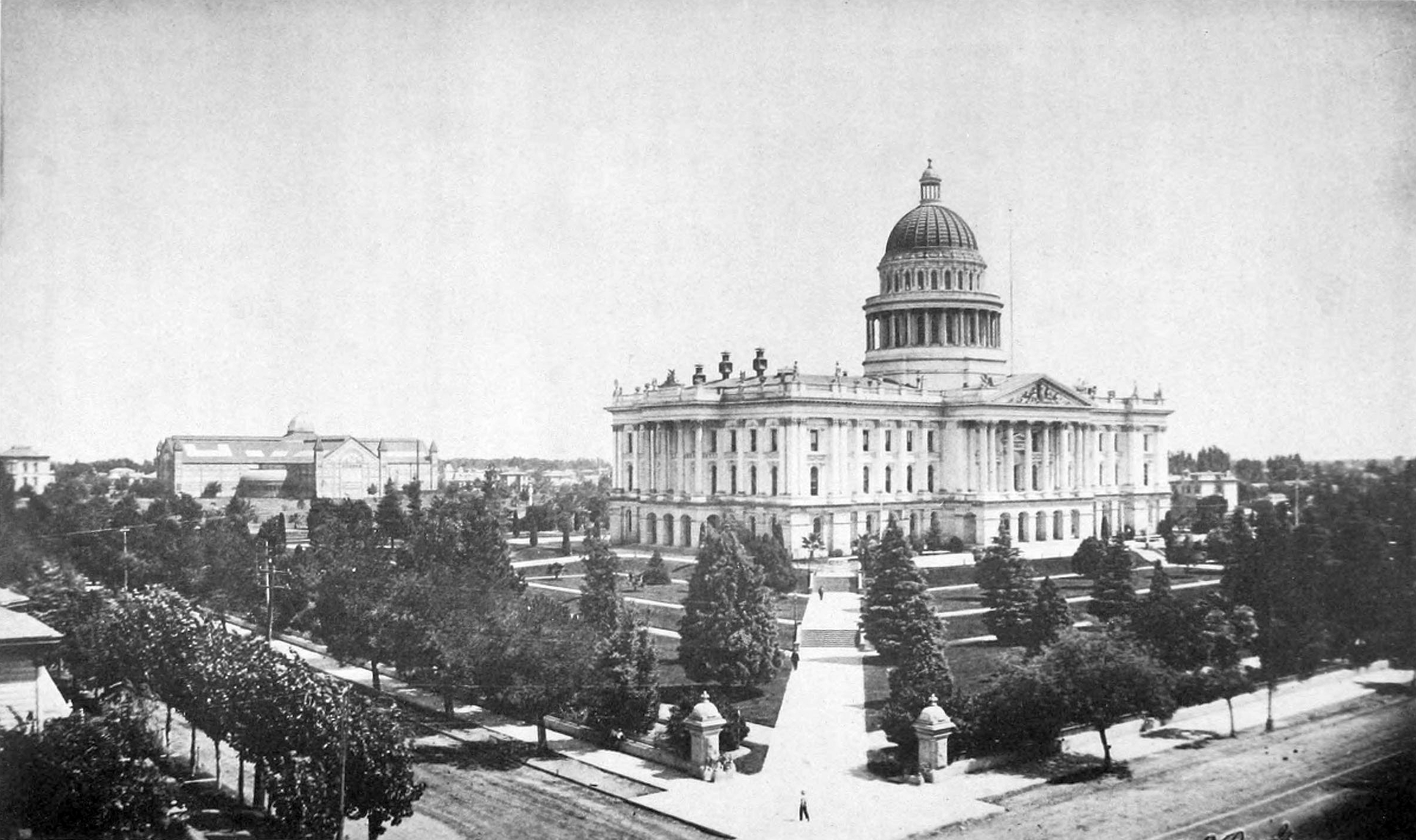 California State Capitol in 1890.
Inside the State Capitol, you'll find the California Capitol Museum, which houses the original historic governor's office, as well as the original Treasury office, and other exhibits to learn more about the Capitol's construction and history. The second story rotunda and view onto the mall are particularly worth seeing in person, and the stairwells are decorated with portraits of most of our 40 Governors.
The California State Senate chamber is decorated in red inspired by the British House of Lords, while the California State Assembly — where I preside over session — is decorated in green based on the British House of Commons. Along the cornice is the Assembly motto, in Latin, which translates to "It is the duty of legislators to establish just laws."
If you're interested in learning more about the State Capitol and its history, you can contact my district office to arrange a personal tour of the building. Many visitors come from San Diego each year to see Sacramento, and while I can't always be available to be your personal tour guide, my staff can help get you connected to the Capitol Museum staff who can arrange a tour.
Tours are limited to 20 individuals at a time or groups of up to 10 people on each public tour. 
Last month I gave a general overview of the state's annual budget process, and now that we have reached the "May Revision," we have something substantive for consideration ahead of our June votes.
The newest estimate projects the budget shortfall at nearly $32 billion.
However, the governor's May Revise makes a serious attempt at closing this projected gap.
First off, I am pleased to see sustained levels of support for housing solutions and to address homelessness still included. 
But I am still concerned to see cuts to our climate, green energy, and electric vehicle infrastructure commitments. 
Many people depend on our public transit systems daily, which are in dire need of funding to continue operations. 
In addition, I'd like to see more funding for childcare providers, who provide an essential service to many California families across the state. 
While the May Revise includes funding cuts for many of my and my Assembly colleagues priorities, it's important to remember that there is still a long way to go before the state budget is finalized and approved. This is a starting point for the Legislature, including the Assembly and Senate, to begin negotiating with the governor to address these concerns and work toward a budget that addresses our biggest challenges. 
I also want to emphasize that I will not support any cuts to crucial social safety service programs that Californians depend on. 
Read the Assembly Floor report on the budget here:

Read the budget blueprint here:
Next, I wanted to talk about several bills we are working on to address homelessness. These are critical bills for housing support, program accountability, and hospital diversion — so much so that I am jointly authoring them with colleagues.
AB 312, which I'm joint-authoring with Assemblymember Eloise Gomez Reyes, will establish a housing data platform to connect renters and their families to deed-restricted affordable housing units they qualify for. 
I'm joint-authoring AB 1316 with Assemblymember Jaqui Irwin. This bill would ensure that Medi-Cal managed care plans reimburse hospitals for care and referrals provided after normal business hours to people experiencing a mental health crisis.
Finally, AB 799 with Assemblymember Luz Rivas would set consequences for entities failing to meet housing goals, including potentially reallocating HHAP funds to another entity within the same region. It would also streamline administrative burdens on local systems while ensuring that more detailed information is made available to the public to improve transparency and oversight. 
In addition to joint authorships, there are 30 bills which I am co-authoring, which are particularly important to our district and our priority issues.
At the end of May, the Assembly has a deadline to pass — or not — bills that started in the Assembly. If you have questions on any pieces of legislation, please reach out to my office to understand what a bill does, what the status is, or importantly to register your opinion before I cast a vote.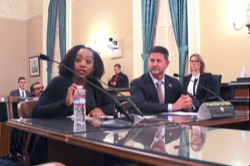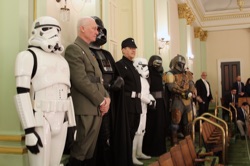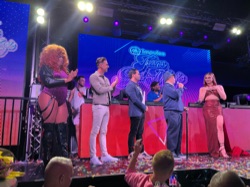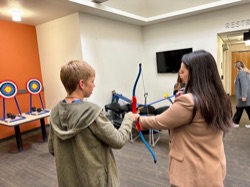 From left to right: Top left: Controller Malia Cohen speaks in support of Assemblymember Ward's AB 84 to allow property owners to receive the welfare property tax exemption at the time of purchase for low-income housing. Top right: Special guests from the Imperial Empire attend the Assembly Floor session on May 4th, "Star Wars Day." Bottom left: #TeamWard presents a certificate honoring Saha Colby, winner of season 15 of "RuPaul's Drag Race." Bottom right: #TeamWard attends the San Diego STEAM Expo hosted by Grossmont College and Magnolia Science Academy.
---
As always, I want to thank you for the opportunity to be your representative and work on these issues and more. One of the best ways to stay informed is to follow my social media accounts on Facebook, Twitter and Instagram where you can know in real time what developments are happening or what I'm working on every day.
If you need assistance, please know that my district office staff is available and ready to serve or answer any questions you may have. Feel free to reach out to the contact information at the end of this segment, and a staff member will connect with you as soon as possible. I wish you, your family and your neighbors all the best.
Sincerely,


Christopher M. Ward
Assemblymember, 78th District